Bixby's Own Chris VanRemoortel Wins ICC Design Gallery Award
Congratulations to Bixby's Engineering Manager, Chris VanRemoortel, on winning an Ignition Firebrand Award for his project submission: "Ignition Addresses Numerous Issues, Saves Money" at the 2016 Ignition Community Conference.
The project details how Bixby utilized the Ignition platform to improve its process monitoring and control in a continued effort to manufacture the highest quality products. According to VanRemoortel, some of the inefficiencies with the previous software were tag limititations, not enough available licenses, no support contract, machine configuration time and power concerns and no compression of historical data.
For Bixby to take its multiple workstations and extrusion line communication process to the optimum operational level, Ignition was the solution. The system allowed Bixby to integrate multiple data sources, had no limits on tags or clients, had the historian with data compression, was client/server based and had little installation requirements.
Watch the video as seen on the ICC Discover Gallery Firebrand Award Winner's Projects page, to hear from Chris VanRemoortel on how by switching to Ignition, Bixby International was able to streamline efficiencies to better focus on producing the best quality products for its customers.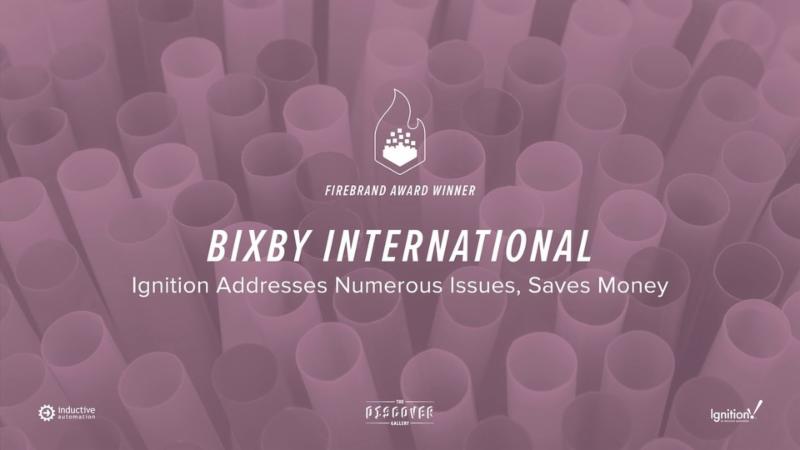 About the Ignition Community Conference (ICC) and Discover Gallery
Inductive Automation's Ignition is a powerful industrial application platform with fully integrated development tools for building SCADA, MES, and IIoT solutions. The Ignition Community Conference (ICC) hosts the most progressive, fastest-growing group of industrial automation professionals in the world. ICC features expert knowledge, hands-on instruction and industry connections for industry pace setting.
ICC's Discover Gallery showcases the most exceptional real-world Ignition applications built by the members of the global Ignition community. Companies with the best project submissions are awarded the prestigious Ignition Firebrand Award. Learn More