Our FLATBED BELT LAMINATOR provides precise bonding solutions for input substrates up to 87" in width. The material bond is created through both controlled heat and pressure as it moves through the belt lamination process. Heating and cooling zones also allow for the adhesive-bonding process to be completed before the laminate leaves the machine. The belt lamination process allows manufacture of thermal laminations, enhancing the bond of extruded laminations, and specialty embossing of our thermoplastic constructions. Input materials that Bixby can work with include: adhesive films, web adhesives, all rolled textiles, foils, films, foams, and more. The multilayer end product can be made in rolled form or sheets.
BELT LAMINATION PROCESS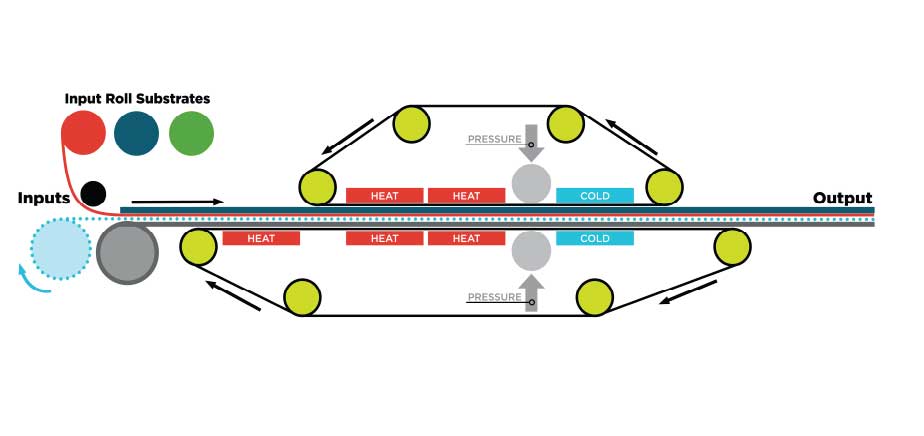 CAPABILITIES
Adhesive bonding/lamination via hot-melt or reactive polymers
Film/web thermobonding
Plastic coatings
Transfer/Embossing of special effects via engraved rolls (e.g. snakeskin, perforations, textures, patterns & custom specifications)
Application of "black-out", protective film, barrier and specialty films in unique laminates
Driven, tension-controlled unwinding and winding of stretch or delicate input substrates and foams
Fabric spreading technology
Precise temperature and pressure control for cylinder and doctor blade
TECHNICAL SPECIFICATIONS
Adjustable working width up to 87" (~221cm)
Coating weights from 10-60 g/m2 (GSM)
Heated anti-stick press station
Process temperatures up to 446˚F (230˚C)
RELATED MATERIALS
Bixby is experienced processing most every commercially available thermoplastic family. Additionally, we work with specialty, custom and developmental polymers and formulations, hot melts, and tie layers. These can be extruded as monolayer film and sheet or combined with other substrates for manufacture of custom laminations.
PDF Download
Download a PDF here
Contact Us
Have a question about our processes or capabilities? Do you need a plastic solution for your next project? Are you interested in learning more about Bixby's custom manufacturing possibilities? Contact us and we will be happy to assist!