Unique to Bixby's multilayer polymer processing is the TANDEM EXTRUSION process. Unlike the coextrusion process which is used to laminate several polymer layers together, the tandem extrusion process allows diverse plastics with very different melt temperatures and compatibilities to be extrusion laminated in the melt state. This capability offers the opportunity to extrude unique plastic constructions from materials often considered 'incompatible'. Our proprietary laminates in combination with the ability to feed any roll-stock films (i.e. sheet, fabric, coex laminates and foams) through this process gives our customers the freedom to design new functional laminates with Bixby that are unavailable elsewhere.
TANDEM EXTRUSION PROCESS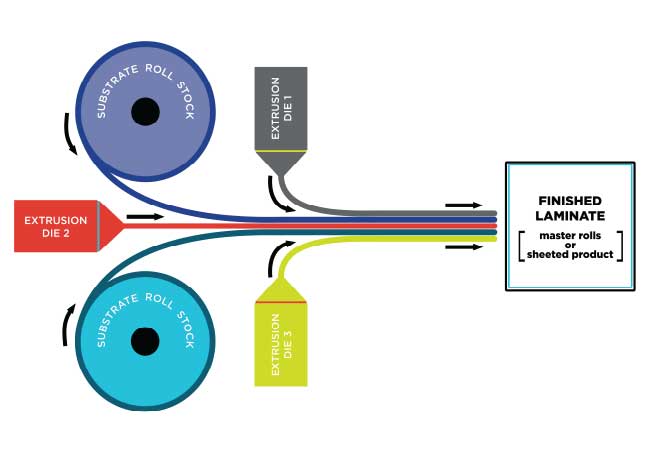 CAPABILITIES
48" (~121cm) wide film or sheet with up to seven distinct layers
60" (~152cm) wide film or sheet with up to three distinct layers
72" (~182cm) wide film or sheet with up to five distinct layers
Texturizing of materials to achieve preferred finish (e.g. glossy, brushed, light matte, heavy matte, prismatic or custom specifications, and embossing)
In-house slitting available both in-line and offline
Diverse extrusion screw and die designs allow processing of the broadest range of polymer and tie-layer chemistries
TECHNICAL SPECIFICATIONS
Gauge range: 0.003" to 0.250" (0.0762mm to 6.35mm)
Coating gauge range: 0.001" to 0.008" (0.0254mm to 0.2032mm)
RELATED MATERIALS
Bixby is experienced processing most every commercially available thermoplastic family. Additionally, we work with specialty, custom and developmental polymers and formulations, hot melts, and tie layers. These can be extruded as monolayer film and sheet or combined with other substrates for manufacture of custom laminations.
PDF Download
Download a PDF about our Tandem Extrusion capabilities
Contact Us
Have a question about our processes or capabilities? Do you need a plastic solution for your next project? Are you interested in learning more about Bixby's custom manufacturing possibilities? Contact us and we will be happy to assist!