Bixby's several PILOT PROCESS DEVELOPMENT LINES allow our Applications Development Engineering team to continually innovate, test and develop custom solutions. The versatility of our manufacturing at the pilot-line stage is unlike your standard thermoplastic extrusion companies. We have the ability to develop mono- and multi-layer laminate solutions via cast and tandem extrusion, coextrusion, hot-press and continuous belt lamination, gravure and full-coat roll coating and laminations. These can be evaluated in conjunction with flame, corona, plasma or priming surface treatments at the pilot-line scale. These extensive capabilities early in the development process are a key factor in our ability to provide fast and focused process technology solutions to our clients from the start of a concept all the way through scaled-up production.
PILOT-LINE CAPABILITIES
CAST & TANDEM EXTRUSION PROTOTYPING
Flat Die Cast Extrusion Line – Davis Standard 1.5" (3.81cm) single screw extruder
Three-Roll Casting/Nip Extrusion Station
Prototype Samples up to 18" (~45cm) wide

Available thickness: 3 mils to 65 mils

Prototype Samples up to 11" (~27cm) wide

Available thickness: 3 mils to 155 mils

Mono- or multi-layer extruded polymers can be laminated with any substrate unwound from rolls
Available Surface Textures: Gloss, Brushed, Light Matte, Heavy Matte, Prismatic or Custom Specifications
COMPOUNDING
Lab-Scale formulation development on TPEI continuous mixer for creating custom polymer compounds for our clients
Small-batch (5 – 50 lbs) pelletized compounds are validated and characterized for end-use application in our extrusion and lamination pilot processes. In this way, customized film, sheet and laminate prototype concepts can be quickly analyzed and tested in our development labs.
COEXTRUSION
Visit our COEXTRUSION section for more details.
BELT LAMINATION
Visit our BELT LAMINATION section for more details.
GRAVURE & FULL-COAT LAMINATION
Visit our GRAVURE LAMINATION or FULL-ROLL COAT LAMINATION sections for more details.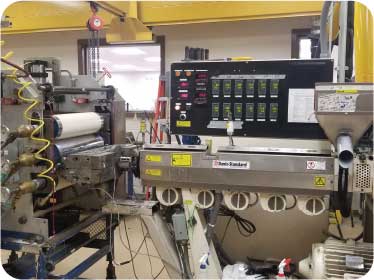 PDF Download
Download a PDF about our Pilot-Line capabilities
Contact Us
Have a question about our processes or capabilities? Do you need a plastic solution for your next project? Are you interested in learning more about Bixby's custom manufacturing possibilities? Contact us and we will be happy to assist!