BIXSHIELD PERMANENT PROTECTIVE FILMS
Industrial products need to withstand a variety of elements in order to maintain their integrity and lifespan. Bixby International develops and manufactures high-performance films and laminates for applications that require long-lasting protection. Our Bix®Shield product line is designed and tailored to provide the desired combination of excellent durability, graphic shield, and unique haptics/aesthetics that industrial applications require.
Bix®Shield provides clear wear layers that resist physical and chemical damage. From scratch resistance to UV protection, Bixby has the material and process knowledge to assemble films that will meet your needs.
AVAILABLE PROPERTIES:
Clear protective layer for reverse printing or lamination to print film
Scratch and abrasion resistance
Chemical and stain resistance
UV resistance and/or UV blocking
Optional bonding layer for adhesion to various substrates
Unique textures and haptics such as soft-touch
Performance in downstream fabrication processes such as thermoforming and adhesion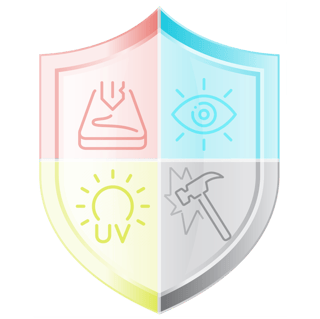 CAPABILITIES:
Bixby offers a unique combination of processing capabilities
Prototyping equipment for fast & efficient development
Scale to commercial processes
Coextrusion, lamination, extrusion coating
Adhesion using 100% solid adhesives
Embossing
Post-extrusion lamination via double belt laminator
EXPERTISE:
Broad knowledge of materials, interlayer adhesion, and multi-layer design
Reliable network supplier partners
In-house capability to test/measure durability and adhesion performance
POTENTIAL END USE APPLICATIONS:
EXAMPLE OF BIX®SHIELD LAYERING OPTIONS
(hover over layer for details on each section)
CONTACT US
Have a question about our processes or capabilities? Do you need a plastic solution for your next project? Are you interested in learning more about Bixby's custom manufacturing possibilities? Contact us and we will be happy to assist!
Choosing the right wear layer is pivotal to a project. Do you need excellent scratch resistance or is chemical resistance more important for your end-use product? Which properties work best with one another? Use the link below to submit a detailed layout of your wear layer needs. Our technical team will then work with you to determine the best materials for your next project.