Driving Bixby's rapid delivery of customized, commercial product solutions is our comprehensive ITERATIVE DEVELOPMENT PROCESS. Bixby's development process focuses its broad manufacturing, materials, testing, and application capabilities to quickly deliver tailored thermoplastic extrusion and lamination solutions. The combination of our Team's expertise with our clients experience and vision allows us to utilize this cooperative knowledge and our manufacturing flexibility to rapidly provide product solutions and take your project from 'Concept-to-Commercialization'.
CONCEPT TO COMMERCIALIZATION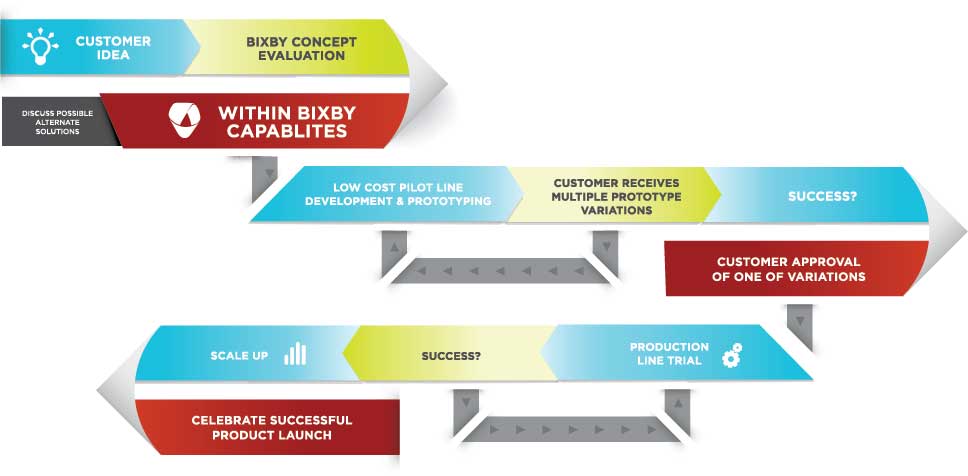 APPLICATION DEVELOPMENT ENGINEERING TEAM
All of the technical capabilities developed at Bixby are meaningless without the broad materials, process and application development knowledge shared by our team of engineers and scientists. Our Team brings a diverse background of experience from the plastics, textiles and polymer processing world. This deep experience combined with a passionate focus on innovative and practical problem solving has allowed us to create and deliver dozens of new product solutions across hundreds of applications in a variety of markets.
PILOT-LINE CAPABILITIES
CAST & TANDEM EXTRUSION PROTOTYPING
COEXTRUSION
COMPOUNDING
BELT LAMINATION
GRAVURE LAMINATION
LAB CAPABILITIES
APPLICATION TESTING
MATERIALS TESTING
ANALYTICAL TESTING
PDF Download
Download a PDF about our Custom Development capabilities
Contact Us
Have a question about our processes or capabilities? Do you need a plastic solution for your next project? Are you interested in learning more about Bixby's custom manufacturing possibilities? Contact us and we will be happy to assist!