BIX®WEAR provides custom solutions for clients in the apparel industry.
Bixby International's unique processing capabilities and ability to work with a diverse range of plastic resins allow us to provide a portfolio of custom products for the apparel industry with our exclusive Bix®Wear line. Bixby's unique plastic formulations offer a variety of adhesive, barrier, and elastic taping for performance, athletic, and intimate apparel as well as garments for everyday wear.
The state-of-the-art equipment at Bixby combined with our Applications Development Engineering (ADE) Team's expertise allows us to offer our customers innovative, custom materials for their apparel projects. These innovations can include films integrated with foam padding, textile reinforcements, and multilayer combinations of polymers and textiles.
Bixby's elastic tapes can be manufactured in a variety of widths and thicknesses. All of our elastic tapes are prepared through solvent-free processes offering unique and flexible options for design. The Bix®Wear line of sew-free adhesives reduces garment weight while providing excellent seam elasticity and resilience. BixWear adhesives or tapes can also be made at customized widths for use in parts of the garment requiring extra shape control and support. Below is a listing of some of our current offerings, however, custom requests are always welcomed.
BIXWEAR'S HIGH-PERFORMANCE STRETCH TAPING
BIXWEAR TE100 - Performance Stretch Taping

BIXWEAR TE101 - Low-Temperature Stretch Taping

BIXWEAR TE102 - Perforated/Breathable Stretch Taping

BIXWEAR TE103 - Sewable, Soft-Touch Stretch Taping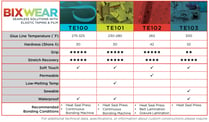 For more detail about any of these technologies, please reach out to us today!
Specifications
Thickness
1 - 120 mils (.025 – 3 mm)
Width
.25 to 72 inches (6 to 1829 mm)
Standard Core Size
3 and 6 inches
(Other sizes available on request)
We also encourage you to check out some of our latest BixWear blogs: