The Bixby Process is unique in handling your ideas from Concept to Commercial Launch (Includes Video)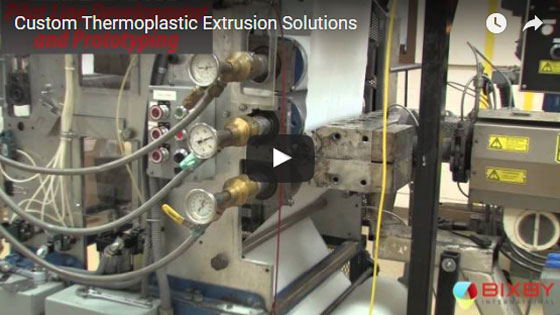 Bixby's development team works with start-ups and designers - Fortune 50 to International companies to make ideas a reality. With decades of experience and a massive network of material vendors, it is our goal to help you make your product a success.
We've taken our extrusion expertise and manufacturing flexibility to the next level - extruding onto a variety of substrates to create mono- and multi-layer laminated composites. Whether it's foams, films, woven or non-woven fabrics, we can combine the components you need and do it all in a one-step process. This saves time and money by eliminating costly secondary bonding and laminating processes.
Every day, our lab-scale pilot line manufactures prototype film and sheet-and-roll stock for our customers. The pilot line creates single- and multi-layer extruded applications from any commercially available thermoplastic, compound, blend or alloy, including Bixby's proprietary formulations and adhesives.
Bixby's materials, product and applications development lab is equipped to effectively take your product idea from conception to commercial launch. Iterative concepts are manufactured on the pilot line and thoroughly tested and analyzed to meet your specifications.
Every idea starts with a spark. So no matter where you are in the development phase of your project reach out to us and see how we can take your product to the next level.