INNOVATION RULES at Bixby International
Bixby International works on dozens of application, material and process developments with its clients on any given week. These collaborative efforts span a multitude of markets, from medical and aerospace to textiles and footwear. By constantly creating new products and raw materials, Bixby makes it possible for clients to launch unique applications and constructions.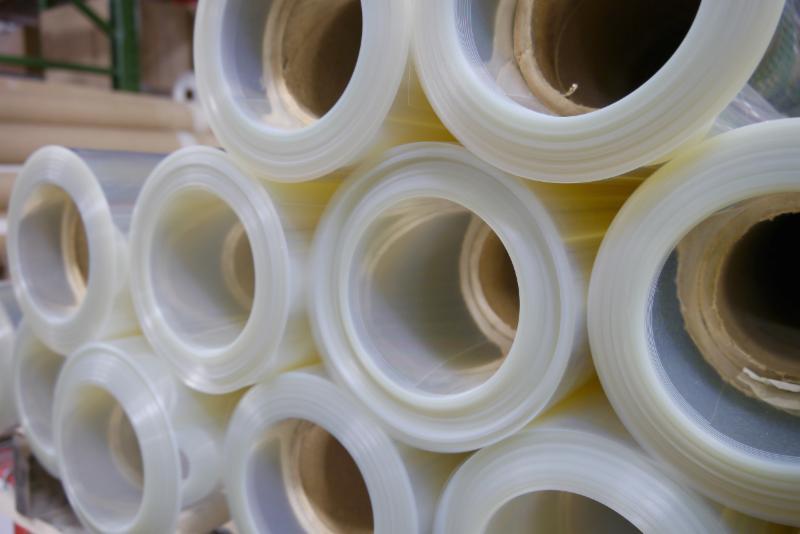 A business that encourages innovation
Bixby's business is driven by a flexible manufacturing process for making sheet, film and extruded laminations. This puts the company in an ideal position to design with virtually every thermoplastic blend, compound and additive to create a simple polymer sheet or a unique functional extruded web or multi-layer construction. In addition to the polymer resins Bixby extrudes, it also combines substrates available as roll goods. These substrates can be made from a myriad of fibers, filaments and/or yarns like Kevlar, glass, steel, polyesters, nylons, natural fibers, and elastomers. Now add specialty extruded films like fluoropolymers, adhesives, or high-temp and chemically resistant products or foams and felts to the mix, and it becomes apparent that Bixby's freedom of design extends over a very broad spectrum of potential material solutions.
Bixby is a tough act to find and follow
Marc Gagnon, Bixby Vice President R&D/Product Development, expounded on the subject of innovation, "By constantly working on new designs and constructions across diverse markets, we can engineer, source, and control the resin and roll good components that are laminated into multi-layer constructions under one roof." Gagnon went on to say, "Companies would be hard pressed to find a partner like Bixby with which to coordinate their programs. We follow an iterative process for and with clients led by a team of committed and experienced polymer materials and processing experts from our R&D and Product Development department. We also have a dedicated pilot line where we create up to a dozen prototypes every week for our clients to evaluate. Based on their feedback, we will run additional iterations until we have a practical solution on the pilot and lab scale."
A laboratory that passes every test
To further support and speed development, Bixby has a fully equipped materials lab for testing and processing physical, thermal, and optical properties, as well as analyzing and characterizing new materials and constructions. In this lab, Bixby can also "stress test" its films, sheets and laminations in an environmental chamber at hot or freezing temperatures, and in moist conditions, as well as evaluate a construction's response to accelerated weathering under intense UV and moisture conditions. All this enables clients to quickly evaluate many approaches in a relatively short period of time, days and weeks, not months and years as is common when trying to get onto the production equipment of busy manufacturers to evaluate new ideas.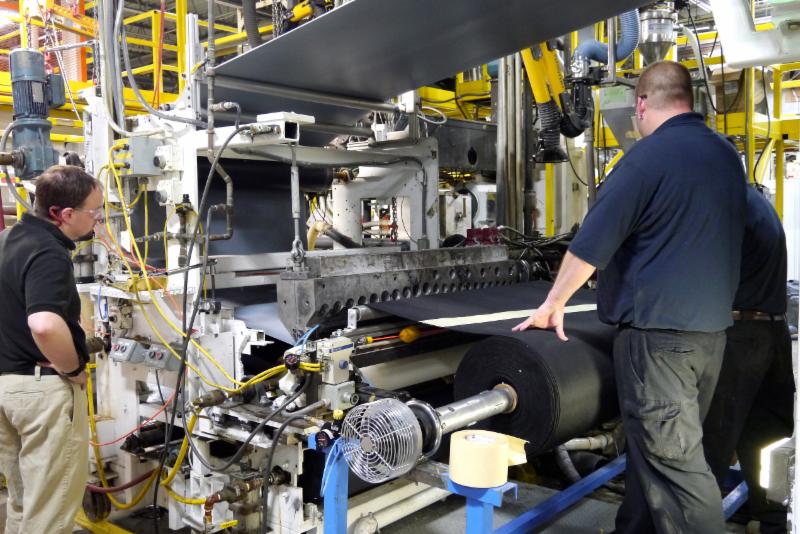 Success is shared by all involved
Bixby is not a seller of R&D and Product Development services. Its business is the conversion of polymer materials and various substrates, from pellets and roll goods to extruded film, sheet, and multi-layer, multi-material laminate constructions. The company is committed to allotting time in its manufacturing schedule to help clients go from concept to commercial as quickly as possible. This helps to monetize new programs, which enables both parties to successfully grow and strengthen their respective businesses with innovative approaches.
A team held in the highest regard
Gagnon has high praise for Bixby's experienced R&D and Product Development team, "Our experts make innovation with clients possible. Because we extrude, test, and work with virtually every type of substrate, we are in the best position to know, source, and combine materials creatively and effectively." Gagnon added, "We have thousands of project case studies in our archives, and experience with tens of thousands of prototypes to draw upon from decades of iterative development of all types of constructions with clients in a range of industries."
Drawing knowledge from around the world
Gagnon had equal praise for the many strong relationships Bixby has built with global and local polymer resin suppliers, compounders, additives suppliers, film manufacturers, fabric mills, adhesive suppliers, and foam vendors, "We are working in this materials space every day, so we can draw not only on our experience, but also on those of experts in their specific materials' fields. These relationships create a broad materials and process foundation on which we are constantly expanding as we work with our clients on progressively sophisticated constructions."
Many benefit from what Bixby offers
Bixby's R&D and Product Development expertise and prototyping capabilities benefit individual designers, small design firms, start-ups with good ideas, multi-national, multi-billion-dollar OEMs and materials vendors. Bixby has established relationship models that include business partnerships and equity arrangements with cash-strapped design partners, supply agreements that invoice development time and materials, and partnerships built around unique licensing deals. Whatever the relationship, Bixby encourages and values developments in which both partners benefit.