Stretch Your Knowledge of BixWear Elastic Tapes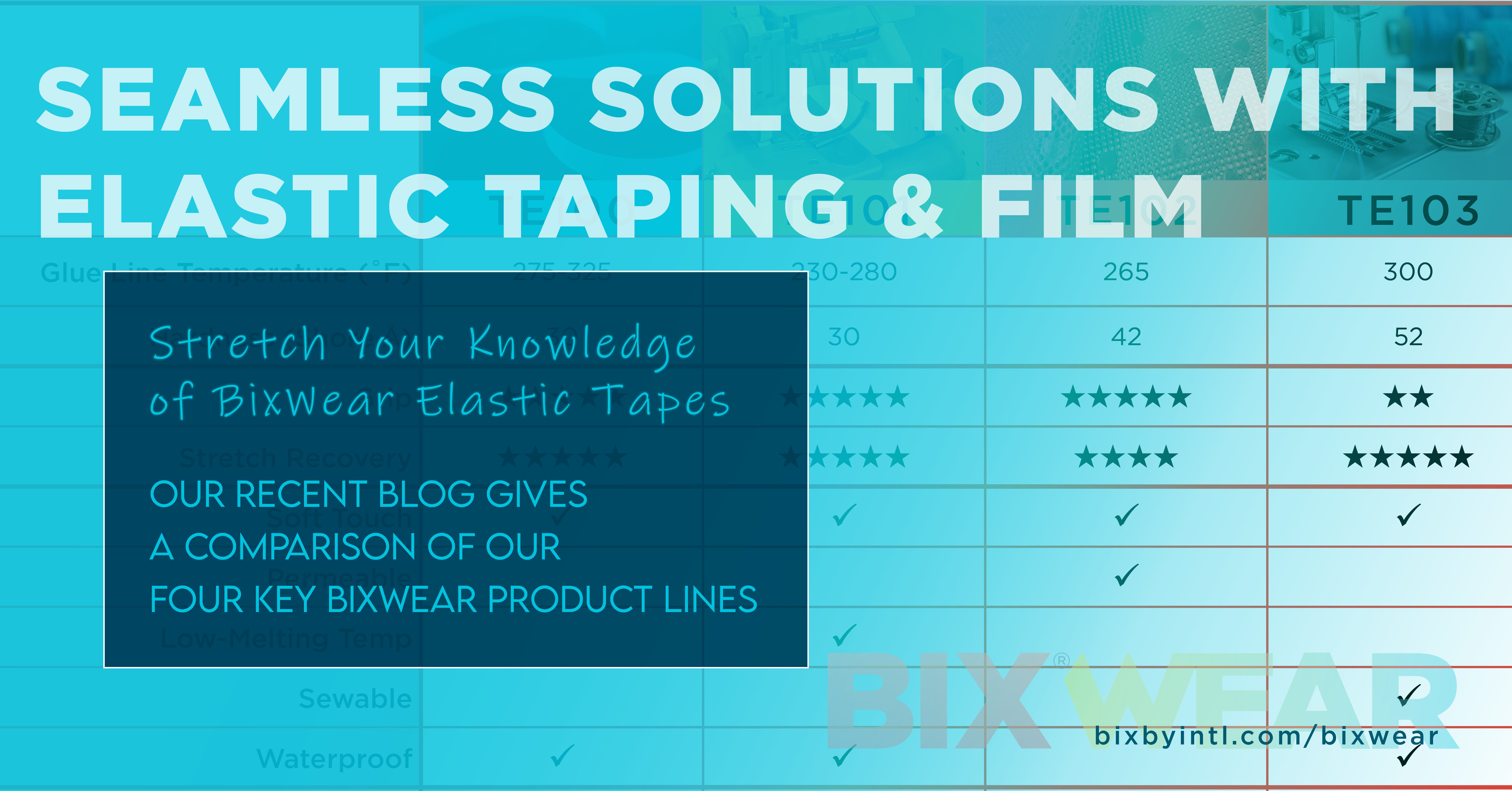 A Comparison of Our Four Key Product Lines
Our lives have certainly changed this past year and so has the way we dress. Whether at home, at the office, out with friends (6ft apart), or working out, it suffices to say that we have embraced a much more casual lifestyle. We still want to look good doing it though!

Bix®Wear's unique stretch taping and film offer comfort, stretch, and softness to garments for both everyday life (athleisure wear, jeans, maternity, children's and intimate apparel) and performance/athletic apparel. Since the use of these garments differ so greatly, we have developed a variety of technologies to enhance and expand the apparel's features. All of these tapes have the benefit of excellent stretch and recovery, durability, and contouring as well as their own unique attributes. So let's start expanding your awareness of BixWear.
BIXWEAR TE100
The TE100 was Bixby's first soft, thermoplastic elastomer designed as a stretchy elastic taping solution. When added to a garment's design, this material can improve features such as the fabric's stretch and recovery, grip capabilities, and seamless adhesion. BixWear TE 100 provides an unprecedented high stretch seamless solution for intimate or performance wear garments that need a stitch-free appearance and added support in certain areas. The nature of this elastic also offers an extra "grip" that helps the garments "stay in place" and provide a perfect fit that contours the natural curves of the body. In addition to these features, the TE100 can also perform as a waterproof barrier for certain types of apparel or other non-permeable applications.
With a GLT (glue line temperature) of 275°F - 325°F, the TE 100 can bond to a wide variety of Spandex stretchy fabric blends through a heat lamination process. However, when bonding, we highly recommend that you check the heat limitations of the fabric itself before adhering. The versatility of this product offers endless opportunities for garments within the intimate apparel, performance apparel, and even medical apparel markets.
BIXWEAR TE101
With the success and interest in the TE100 taping and film, Bixby decided to expand its product offering within the apparel industry. The TE 101 was developed to provide a similar high stretch and recovery but with a lower melting grade that could be applied or bonded into garments made of heat-sensitive fabrics. The lower GLT of this product, around 225°F, prevents any potential heat distortion or possible change of the inherent fabric elastic properties during heat lamination process. In this process, the adhesive melts and penetrates through the fabric's free open spaces to create a permanent bond between the film and textile.
TE 101 can also be used in specific continuous bonding machines to speed up production rates and reduce labor costs. For more information, please contact us and ask to speak to one of our technical specialists.
BIXWEAR TE102
As the trend for performance apparel grows, so does the need for more comfortable and breathable garments. The novel BixWear TE102 product line is designed with breathability and style in mind. This patent-pending taping/film technology is a new perforated elastic tape adhesive with an open area (OA) from 8% to up to 17%. Here at Bixby, we excel in creativity and innovation and can work together to develop a unique customized perforated TE 102 design. These designs could include embossed aesthetic features such as hearts, squares, or even a custom logo.
In high sweat activities where moisture management becomes a must, our TE 102 can maximize the heat transfer from the body to the environment. This feature helps to prevent any heat and moisture build-up that could cause blisters or skin irritation. The thicker TE 102 film can be placed in a performance sportswear garment to provide a cushioning effect or a tailored compression effect. Additionally, this product can be used in footwear applications for the newer shoe styles requiring a unique combination of strength, stretch, comfort, and breathability.
BIXWEAR TE103
For garments where the taping/film requires a sewn seam to run through it or other stitching needs, the TE103 is an ideal choice. This elastic tape/film has an incredibly soft hand but also the strength and durability to withstand tearing if it is stitched. As with all of our BixWear tapes, the material has excellent recovery and provides stretch and shape. To adhere this film/tape, a flat press is required at temperatures of above 350°F.
Each of these tapes/films are available in a variety of thicknesses and widths as well as in custom sizes and designs. Additionally, all BixWear TE products are certified with the STANDARD 100 by OEKO-TEX®. Here at Bixby, we are well aware that the apparel industry is everchanging and our innovative technologies for garments will continue to grow and change as well to better serve our customers' needs. It is so fun to see the applications and potential for these types of constructions develop and change overtime from intimate apparel to the much wider scope of performance apparel, athletic taping, everyday apparel, children's garments, reusable diapers, footwear, and so much more. We hope that through this article, you have gained a better understanding of this product line and perhaps sparked a new design idea of your own for these innovative and unique elastic tapes.
As always, our experienced Team is happy to assist with any inquiries, provide data or technical expertise. Please feel free to reach out to us with your questions and ideas.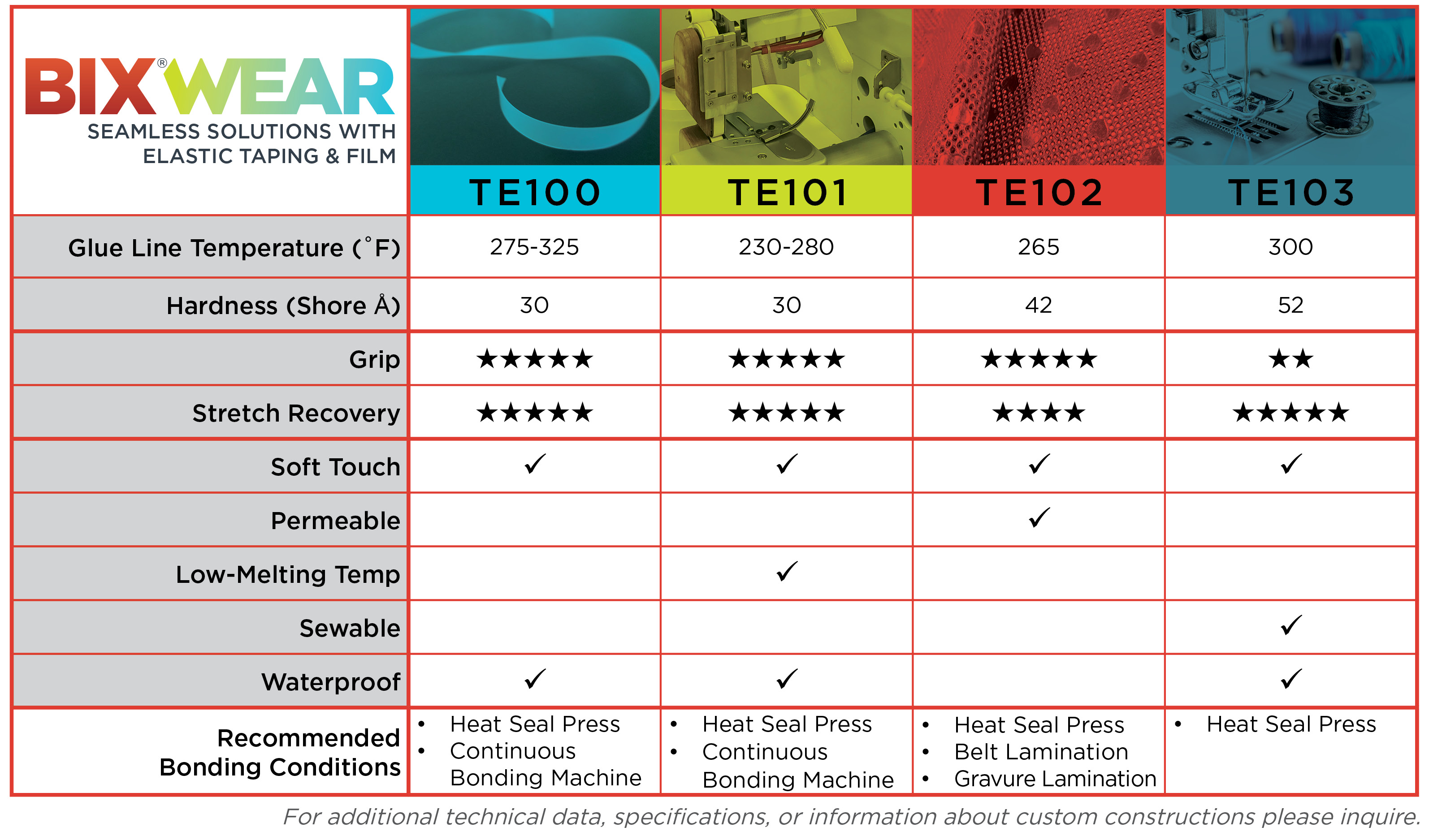 Related Links:
BixWear Brochure - PDF Download