What to Wear?
Factors to Consider When Selecting a Wear Layer
There are many potential criteria that go into selecting the best wear layer material for an application. Oftentimes, the focus is on price but there are multiple factors to consider that will significantly contribute to the realization of your project's potential. Here we will highlight some of the properties to consider when selecting a protective multilayer film or sheet.
PHYSICAL PROPERTIES
One of the first things to do is determine and prioritize the physical properties your end product requires. Does it need be able to withstand scratching and abrasions? Will it need to resist flex fatigue cracking or low-temperature impact? Are there other physical factors that are key to the design & marketing of the product? The polymer families and grades selected for the wear layer can greatly affect the ability to handle these types of physical stressors. For example, while polyethylene may offer moderate scratch resistance, it may not be the best polymer to use for flex fatigue. However, if both of these physical properties are important then a custom blend may be the best solution.
AESTHETIC PROPERTIES
Aesthetic properties will determine the final visual appearance and haptics (touch/feel) of the project. Decisions such as whether the material should be a glossy or matte finish can have a direct impact on both the physical properties and the market appeal of the final product. Glossy finishes are often associated with higher scratch resistance since any mars on the surface are less apparent with the gloss. However, not all end users are interested in a high-gloss shine so something that has a low gloss may be a better target in these circumstances. There are also aesthetic properties such as the product's ability to be embossed or textured during or after processing. This feature is especially important when working with flooring, decking, or other decorative constructs. In addition to the finish and textural capabilities, clarity and the touch/feel of the product are necessary to consider. For anything that has a printed graphic underneath the protective wear layer, clarity may be the most important property. For a high clarity, we would often recommend an acrylic or polyester film however, this is again dependent on the other critical properties of the project.
DOWNSTREAM PROCESSING
Once you have an idea of what type of physical and aesthetic properties are most important to your project, the next thing to think about is what type of processing the material may need to undergo. Processes such as printing, adhesion and thermoforming will respond differently depending on the polymer used. Additionally, whether or not the layer needs to bond to ink or a certain substrate during lamination/ insert molding has a significant effect on your material selection. While some polymers and blends bond well with one another, others may require an adhesive layer or a different type of processing to create a strong connection between the two materials. This in turn can also affect which blends can and should be used to meet the aesthetic and physical needs.
END USE PROPERTIES
Finally, it is extremely important to consider the conditions that the final product will be exposed to and need to withstand. If the end use is primarily near or on the ocean the materials selected should have a strong resistance to salt and brine as well as a high weatherability. For an end use in the home or yard, stain resistance and chemical resistance may be at the top of your list. Often times for any product whose intended use is outside, UV resistance and weatherability are necessary in order to preserve the life and appearance of the product. There are of course a number of different conditions that the end product may encounter so taking the time to list each of these and determining which are most important to you ahead of time will assist in your final material selection.
Once you have gone through each of these sections, you may begin to wonder, "Now what do I do with this?". That is where the team here at Bixby comes in. Our Applications Development Engineers (ADE) have experience in working with one of the widest varieties of polymers in the industry as well as an extensive collaborative knowledge of materials. This allows them to quickly assess and recommend the right polymer for any project. In addition, we have multiple in-house testing capabilities to make sure our prototypes can meet your expectations.
If you are looking to determine "What to Wear" for your next project, fill out our Wear Layer Selector Form and one of our ADE team members will be happy to assist in moving your project forward. We have also included the chart below for a quick review of some key polymers and how they measure up for each wear layer attribute.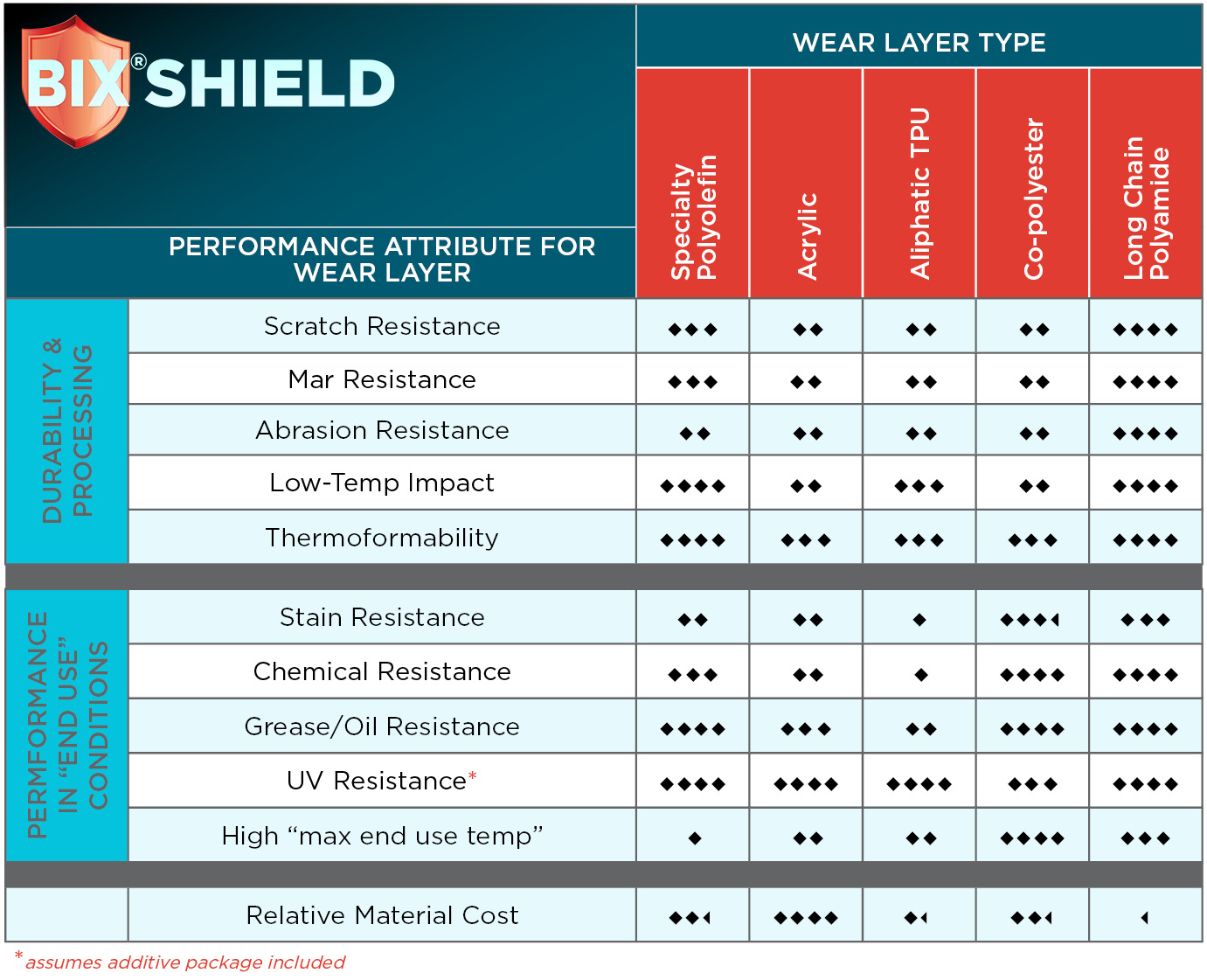 Related Links:
BixShield – Permanent Protective Films
Extruded Polymers & Tie Layers
Materials – Substrates & Custom
Blog by Tim Libert (R&D), Hal Panabaker, & Ashley Hurteau