Polymer Highlight: THV

THV is a polymer made up of tetrafluoroethylene, hexafluoropropylene, and vinylidene fluoride. The material was originally developed by a German company. Although unsure of the applications and possible markets for this novel material, the developers reached out to 3M. Recognizing, the excellent chemical resistance and optical clarity of the polymer, 3M purchased the material and created its Dyneon product line.
Some of the key applications for THV are within the automotive/transportation industry. This is due to its ability to withstand wear and degradation from chemical substances such as jet fuel, gasoline, emissions, and more. In the mid-90s, sales to the automotive industry made up around 90% of the THV market. This was due to the high interest from Detroit manufacturers and an increase in automobile production. With the introduction of electric vehicles (EV) however, the auto industry's focus on THV has diminished since there is no longer a need for fuel storage or concern for emissions in these vehicles.
Although this main market is dwindling, the need for a highly transparent, weatherable, and extremely chemical resistant material still exists. Bixby International and 3M began working together with THV many years ago by using it to manufacture a solar backing film. The light transmission and weatherability properties of this material allow it to be used in these types of long term outdoor applications. . When speaking with a representative from 3M he kindly commented that "making a thin fluoroplastic film is very difficult and Bixby is one of the few who can do it well". Some of the other development areas for THV include use in 5G technology, EVs, ongoing applications in the oil & gas industries. It also has potential within any project requiring features such as clarity, flexibility, low-temperature forming, and superior bonding properties.
THV's ability to bond to a large number of substrates facilitates its use in laminates requiring good clarity, flexibility, and flame resistance.
Some of the key features of THV are included below.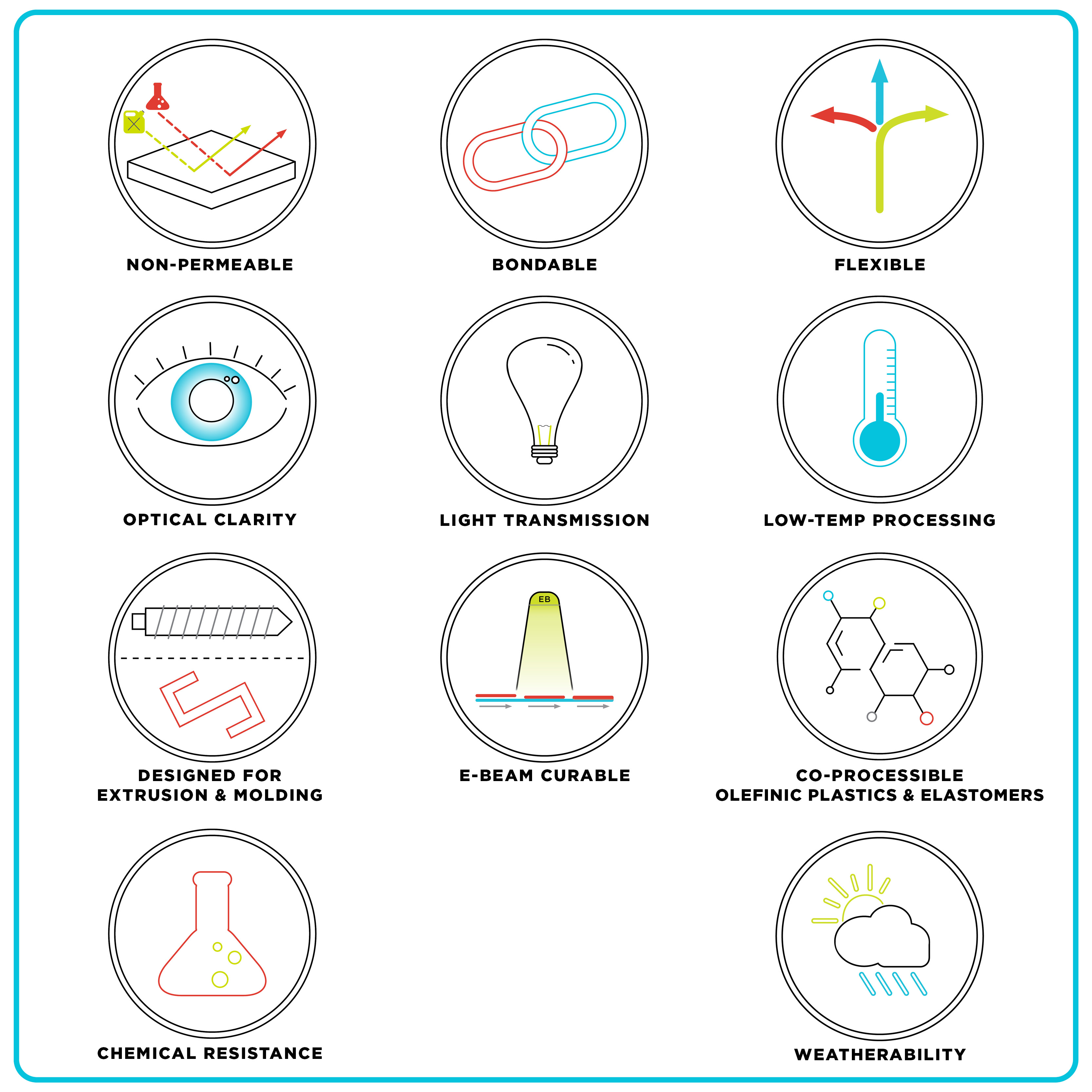 Do you have a new idea or project where THV may be helpful? Contact a member of our Bixby Team for more information on this polymer as well as Bixby's manufacturing capabilities for it.
THV resin is exclusively available from 3M.
Related Links:
Materials: Polymers & Custom Blends
Extruded Polymers & Tie Layers
Selection of Industries Worked