A Brief Description of Converting Processes
Find which process is best for your next project

Cast extrusion, also known as monolayer extrusion, is the simplest form of an extrusion/coating process. This process can create a standalone film using one resin type or a blend of resins. In addition to manufacturing standalone film or sheet, the cast extrusion process can also coat one layer of resin onto a separate film, foam or fabric. Oftentimes, the purpose of coating onto one of these other substrates is to enhance the functionality of the finished product with features such as UV resistance, wear resistance, color, haptics, etc. With cast extrusion, the engineers are able to maintain a very precise thickness control since the process is only involving a single polymer layer. However, this process is repeatable if a multi-layer film is desired. Although coating a material one layer at a time is more time consuming, for certain finished products this may be the best solution.
Examples of applications where cast extrusion is used:
our BixWear products
stretchy elastic film on a carrier that could be slit into tapes
thick TPU sheet used for conveyor belts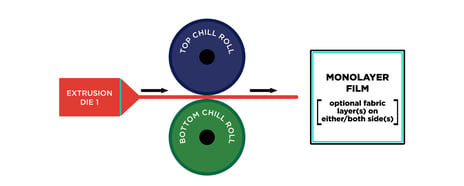 For a faster multilayer processing option, the tandem extrusion process allows up to six laminations of a substrate to be produced in one pass. Tandem extrusion uses a sophisticated series of multiple cast extrusion dies to create a singular production line. The versatility of the process is based on the manufacturing expertise of the team and their ability to effectively set-up the multiple extrusion dies in the most suitable layout for each custom job. Additionally, the individual dies can be turned on or off as needed to coincide with specific product requirements. Tandem extrusion grants the ability to laminate just about any film, foam, foil, or fabric substrate and even combine some of these into one multilayer construction. One of the significant benefits of this process is that it allows dissimilar resins to be used in the same pass. In this circumstance, the term 'dissimilar' is referencing the resins incompatibility with one another, the difference in polymer melting points, or other varied extrusion requirements. Resins which melt at substantially different temperatures or have incompatible qualities cannot be run in processes such as this next Bixby capability – coextrusion, which makes tandem extrusion a better choice for these situations.
Examples of applications where tandem extrusion is used:
toe puffs (footwear)
heel counters (footwear)
instances where a high temperature structural polymer is needed in conjunction with a low temperature adhesive Coextrusion is one of the more recent additions to Bixby's processing capabilities. This process uses a special feedblock and die which allows the extrusion of a multilayer film (up to five layers at Bixby) using multiple resins in one pass. A key benefit of this process is its ability to create a strong, indestructible bond between layers. It also offers the ability to build different properties into the different layers of the construct. For example, we can build tensile strength into one layer, adhesive properties into another, and slip properties into the third layer, all in a single pass. This allows for reduced processing times for both standalone films or extrusion coated substrates.
Examples of applications where coextrusion is used:
BixShield constructions
protective films where the top layer is a scratch, mar, UV protection and the back layer is a printable layer like films that protect skis and snowboards In addition to the above-mentioned extrusion processes, there are a number of lamination processes which can be customized to meet the requirements of an end-use product. These processes can be applied on their own or in combination with some of the extrusion processes. Here we will describe some of the features of belt lamination and gravure lamination, however, the gravure lamination process can be adjusted to accommodate a full roll coat lamination of a substrate as well.

Belt lamination, also known as flatbed lamination, involves as you may have guessed, dual belts (top and bottom) which convey the substrate through multiple heating and cooling zones to produce the necessary bonding between layers. This process is very versatile in that it enables the user to create quick, easy adjustments within the lamination process to achieve the perfect seal from run to run. Some of these adjustments include the line speed, dwell time, lamination temperature, lamination pressure, or the gap range between belts which can allow a wide spectrum of thicknesses to be laminated through this process.
This precise, and repeatable process can run rolled substrates onto rolls, sheet-fed materials, and even samples as small as 1" x 1". If time is of the essence, this efficient process can run multilayer laminations (up to three at a time) in a single pass and has a very quick start-up time with equipment reaching set temperatures within minutes. The laminator's ability to simultaneously heat and apply pressure to a material removes the need for wet adhesives (for constructions requiring wet adhesives see Gravure Lamination). The laminating adhesive is most often in filmic form which reduces mess and clean uptime. Although the filmic form of adhesives/tie layers is most common, powdered adhesives and pressure sensitive adhesives in web form can also be used.
Examples of applications where belt lamination is used:
polymer fabric laminates where the fabric chemistry and polymer chemistry need a certain amount of dwell time to achieve the desired bond, either to activate chemical adhesion or a mechanical bond by allowing the polymer time to flow into the fabric fibers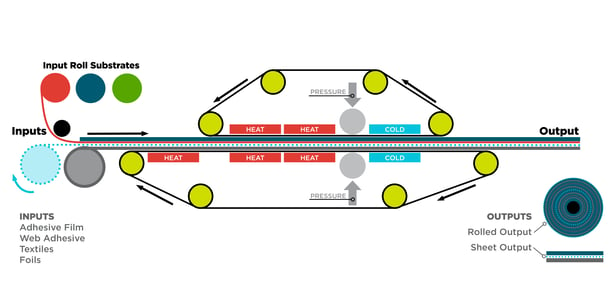 While belt lamination does not use wet adhesives in its process, there are times when this type of adhesive is needed to bond two films/fabrics that will not stick together with a standard thermoplastic tie layer adhesive. The gravure lamination process uses a gravure cylinder to apply specific dot coating weights and patterns of adhesive onto a substrate. The term gravure references a printing method where a plate or cylinder is engraved or etched with a design or small recesses in order to produce a desired effect on the chosen medium. In a similar fashion, the gravure laminator can precisely apply the adhesive in a custom pattern while leaving other areas of the substrate uncoated. Individual gravure cylinders may need to be purchased so that specific coating weights or layouts can be produced, however, the process is highly precise and uniform making it a very effective option for a conversion process. A common application for gravure lamination is within the apparel industry where designers require a multilayer material that can maintain the key features of the fabric such as stretch and breathability.
Examples of applications where gravure lamination is used:
Breathable fabric constructions (activewear, footwear)
Surgical gowns
Fabric laminations where airflow remains possible after the lamination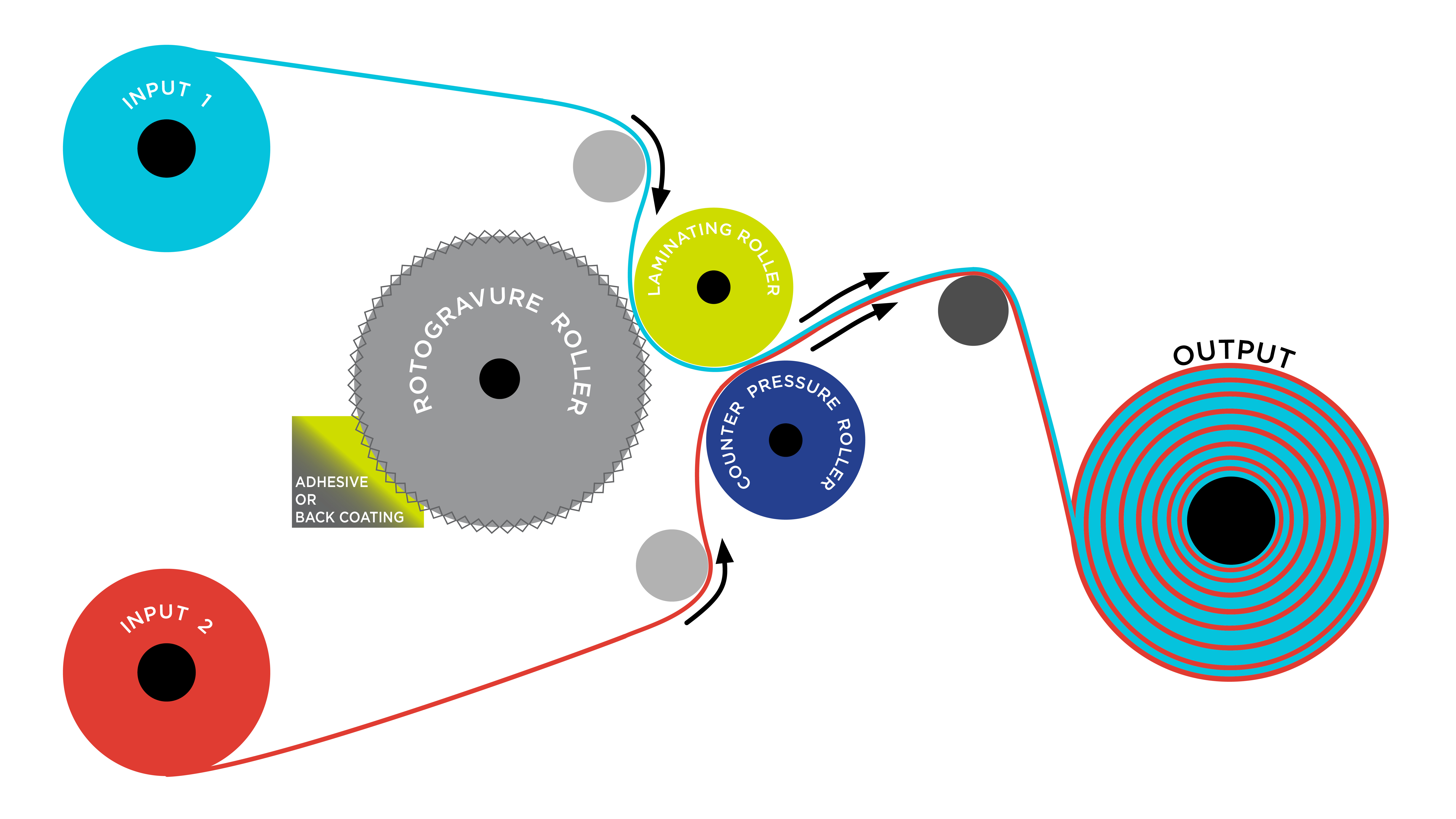 Related Links:
Blog by Tim Glowik (R&D) and Ashley Hurteau